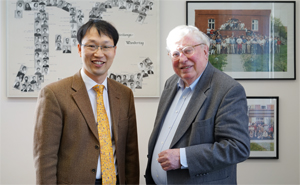 이재영 Jaeyoung Lee
LAB NAMEElectrochemical Reaction & Technology Laboratory 전기화학·촉매 연구실
E-MAILjaeyoung@gist..ac.kr
TEL062-715-2440
FAX062-715-2434
OFFICE52
WEBSITEhttp://ertl.gist.ac.kr/
RESEARCH FIELD
Fuel Cells, Electrocatalysis, Ammonia Decomposition, Water Electrolysis, Carbon Corrosion, Chemicals from CO2, Li-S ASS Battery, Electrode Architecture
EDUCATION
09/1999 ~ Fritz-Haber-Institut der MPG & FU Berlin, Berlin, Germany
10/2001 Ph.D. student in Department of Physical Chemistry (Supervisor: Prof. Dr. Gerhard Ertl, Nobel Laureate 2007 / Group leader: Dr. Markus Eiswirth) Electro-Oxidation of Small Organic Molecules: Kinetic Instabilities and Spatiotemporal Pattern Formation. magna cum laude
03/1996 ~ Inha University, Inchon, South Korea
02/1998 M.Sc. in Department of Chemical Engineering (Supervisor: Prof. Yongsug Tak) Electrochemical Reduction Mechanism of CO2 using an in-situ Electrochemical Quartz Crystal Microbalance.
03/1992 ~ Inha University, Inchon, South Korea
02/1996 B.E. in Department of Chemical Engineering (Advisors: Prof. Sung Taik Chung & Prof. Jongwoo Nam) Electrochemical Etching of Aluminium (Capacitor).PROFESSIONAL EXPERIENCE
03/2014 ~ GIST, Gwangju, South Korea
Present Full Professor at School of Earth Sciences & Environmental Engineering
07/2018 ~ GIST, Gwangju, South Korea
06/2023 Prominent Professor of the University
02/2009 ~ GIST, Gwangju, South Korea
Present Vice Director at the Ertl Center for Electrochemistry and Catalysis (Director: Prof. Dr. Gerhard Ertl)
12/2010 ~ President of Max-Planck-Gesellschaft Alumni KOREA
Present maxNet - the Max Planck Network (https://maxnet-alumni.mpg.de/)
02/2013 ~ Senior Board Member (Vorstand) of ADeKo
Present Alumninetzwerk Deutschland-Korea (https://www.adeko.or.kr/)
01/2018 ~ Chairman of Scientific Committee of KECS
Present Board member of Journal Development Committee (2014 2015)
Board member of Organization Publicity Committee (2008 2009)
01/2018 ~ Board member of International Cooperation Committee of KSIEC
Present Board member of Scientific Committee (2014 2017)
01/2015 ~ Board member of Environment & Energy Division of KCS
Present
01/2018 ~ Chairman of Honam Regional Division of MSK
Present
02/2016 ~ GIST, Gwangju, South Korea
12/2017 Director at the CHemical Energy Storage and Transformation Center (CHESS), RISE
04/2010 ~ GIST, Gwangju, South Korea
02/2014 Associate Professor at School of Environmental Science and Engineering
02/2007 ~ GIST, Gwangju, South Korea
03/2010 Assistant Professor at Department of Environmental Science and Engineering
03/2014 ~ National Research Foundation of Korea, Daejeon, South Korea
05/2015 R&D Planner (RP, Renewable Energy) at Directorate for National Science and Engineering Programs
01/2013 ~ International Society of Electrochemistry (ISE)
12/2014 Vice Chair at Division 7 Physical Electrochemistry (http://www.ise-online.org/divisions/index.php)
03/2011 ~ Fritz-Haber-Institut der Max-Planck-Gesellschaft, Berlin, Germany
02/2014 Visiting Professor at Department of Physical Chemistry (Host : Prof. Dr. Martin Wolf / Dr. Markus Eiswirth)
04/2011 ~ GIST, Gwangju, South Korea
01/2013 Division Head at Energy Storage Laboratory at RISE
05/2011 ~ EU FP NCP in Energy & Environment
08/2014 (NCP: National Contact Point)
03/2004 ~ Korea Institute of Science & Technology, Seoul, South Korea 01/2007 Senior Researcher at Fuel Cell Research Center Research projects were involved with Electrocatalysis in liquid fuel cells, System engineering of portable fuel cells
01/2002 ~ RIST, Pohang, South Korea
02/2004 Senior Researcher at Environment & Energy Research Division Research projects were involved with Environmental Electrochemistry (Electrochemical metal recovery; Capacitive deionization (CDI); Pilot-plant scaled wastewater treatment)
06/2000 University of Newcastle, Newcastle upon Tyne, UK
Visiting Scientist at Chemistry and Chemical Engineering Department (Dr. P. A. Christensen, Prof. K. Scott)
Membrane Electrode Assembly (MEA) in PEM Fuel Cells
01/1999 ~ University of Ulm, Ulm, Germany
08/1999 Visiting scientist at Dept. of Surface Chemistry and Catalysis
(Supervisor: Prof. Dr. Olaf M. Magnussen (now Univ. Kiel)) Inhibition and Corrosion of Cu (111) by using an Electrochemical Scanning Tunnelling Microscope (EC-STM).
1996 ~ 1998 Inha University, Inchon, South Korea
Graduate Teaching Assistant at Department of Chemical Engineering / Courses: Basic Electrochemistry, Electrochemical Engineering, Materials Science & Engineering.
07/1995 Samsung Electro-Mechanics Ltd., Suwon, South Korea
Research Assistant in Materials Chemistry Laboratory
WORK EXPERIENCE
03/2014 ~ GIST, Gwangju, South Korea
Present Full Professor at School of Earth Sciences & Environmental Engineering
07/2018 ~ GIST, Gwangju, South Korea
06/2023 Prominent Professor of the University
02/2009 ~ GIST, Gwangju, South Korea
Present Vice Director at the Ertl Center for Electrochemistry and Catalysis (Director: Prof. Dr. Gerhard Ertl)
12/2010 ~ President of Max-Planck-Gesellschaft Alumni KOREA
Present maxNet - the Max Planck Network (https://maxnet-alumni.mpg.de/)
02/2013 ~ Senior Board Member (Vorstand) of ADeKo
Present Alumninetzwerk Deutschland-Korea (https://www.adeko.or.kr/)
01/2018 ~ Chairman of Scientific Committee of KECS
Present Board member of Journal Development Committee (2014 2015)
Board member of Organization Publicity Committee (2008 2009)
01/2018 ~ Board member of International Cooperation Committee of KSIEC
Present Board member of Scientific Committee (2014 2017)
01/2015 ~ Board member of Environment & Energy Division of KCS
Present
01/2018 ~ Chairman of Honam Regional Division of MSK
Present
02/2016 ~ GIST, Gwangju, South Korea
12/2017 Director at the CHemical Energy Storage and Transformation Center (CHESS), RISE
04/2010 ~ GIST, Gwangju, South Korea
02/2014 Associate Professor at School of Environmental Science and Engineering
02/2007 ~ GIST, Gwangju, South Korea
03/2010 Assistant Professor at Department of Environmental Science and Engineering
03/2014 ~ National Research Foundation of Korea, Daejeon, South Korea
05/2015 R&D Planner (RP, Renewable Energy) at Directorate for National Science and Engineering Programs
01/2013 ~ International Society of Electrochemistry (ISE)
12/2014 Vice Chair at Division 7 Physical Electrochemistry (http://www.ise-online.org/divisions/index.php)
03/2011 ~ Fritz-Haber-Institut der Max-Planck-Gesellschaft, Berlin, Germany
02/2014 Visiting Professor at Department of Physical Chemistry (Host : Prof. Dr. Martin Wolf / Dr. Markus Eiswirth)
04/2011 ~ GIST, Gwangju, South Korea
01/2013 Division Head at Energy Storage Laboratory at RISE
05/2011 ~ EU FP NCP in Energy & Environment
08/2014 (NCP: National Contact Point)
03/2004 ~ Korea Institute of Science & Technology, Seoul, South Korea 01/2007 Senior Researcher at Fuel Cell Research Center
Research projects were involved with Electrocatalysis in liquid fuel cells, System engineering of portable fuel cells
01/2002 ~ RIST, Pohang, South Korea
02/2004 Senior Researcher at Environment & Energy Research Division
Research projects were involved with Environmental Electrochemistry (Electrochemical metal recovery; Capacitive deionization (CDI); Pilot-plant scaled wastewater treatment)
06/2000 University of Newcastle, Newcastle upon Tyne, UK
Visiting Scientist at Chemistry and Chemical Engineering
Department (Dr. P. A. Christensen, Prof. K. Scott)
Membrane Electrode Assembly (MEA) in PEM Fuel Cells
01/1999 ~ University of Ulm, Ulm, Germany
08/1999 Visiting scientist at Dept. of Surface Chemistry and Catalysis (Supervisor: Prof. Dr. Olaf M. Magnussen (now Univ. Kiel)) Inhibition and Corrosion of Cu (111) by using an Electrochemical Scanning Tunnelling Microscope (EC-STM).
1996 ~ 1998 Inha University, Inchon, South Korea
Graduate Teaching Assistant at Department of Chemical Engineering / Courses: Basic Electrochemistry, Electrochemical Engineering, Materials Science & Engineering.
07/1995 Samsung Electro-Mechanics Ltd., Suwon, South Korea
Research Assistant in Materials Chemistry Laboratory
Electrochemical Etching of Aluminium (Capacitor).
HONORS_AWARDS
2018 2023 GIST Prominent Professor
(# of 10% articles & citations)
2018 Commendation from Minister (Ministry of Science and ICT)
2017 Inha University Alumni Award (College of Engineering)
2017 1st INNOX Research Award (KSIEC)
2017 GIST Research Award (# of 30% articles / 2015 2016)
2016 GIST Research Award (for Regional Cooperation)
Top 11 Speakers at 2016 GIST Brown Bag Lunch Talks
2015 CAP Authorship Award (The Korean Physical Society)
2015 GIST Research Award & Top 10 Scientists
(# of 30% articles in SESE & Total citations between 2010 and 2014)
2015 25th KOFST Best Paper Award (Appli. Chem. Eng. 2014)
2015 Visiting Professorship (Department of Chemical Engineering, University of the Philippines-Diliman)
2014 Electrocatalysis-Springer Annual Authorship Award
2014 NRF of Korea 100 Contributed Reviewer
2012 ISE Tajima Prize (International Society of Electrochemistry)
2011 Alexander Humboldt Research Fellowship for Experienced Researchers, 06/2011 ~ 02/2014 (3 blocks/ 18 months)
2011 The Distinguished Lectureship Award (The Chemical Society of Japan)
2002 ISE Oronzio De Nora Foundation Young Author Prize (International Society of Electrochemistry)
Max-Planck-Gesellschaft Post-doc Fellowship, 10/2001 ~ 12/2001
Max-Planck-Gesellschaft Ph.D. Fellowship, 09/1999 ~ 10/2001
Student Travel Grants, 07/2001
(International Conference on Electrified Interfaces 2001)
Student Travel Grants, 03/2001
(199th ECS Meeting, Physical Electrochemistry Division)
Travel Grants (Japan), 03/2000
(Ministry of Education, Science, Sports and Culture of Japan)
Korea-Germany Graduate Student Exchange Program Scholarship
(KOSEF), 03 ~ 08/1999
Baden-Wuerttemberg Fellowship, Germany, 01 ~ 02/1999
Graduate Teaching Assistantship, Inha University, 1996 ~ 1998
Undergraduate Scholarship, Inha University, 1992 ~ 1995